Features
Design Support
Use Cases
FAQ
Power Supply units are essential to electronic devices.
Rubycon develops, manufactures and sells various kinds of switching power supply units, high reliability, high performance and custom design, for various applications such as medical, light source, industrial use, etc., by utilizing our original circuit design techniques with know-how accumulated as a capacitor manufacturer.
We provide power supply units that meet with customers' needs by achieving energy saving, low cost, high efficiency, miniaturized and low profile performances with extensive experience in R&D & manufacturing.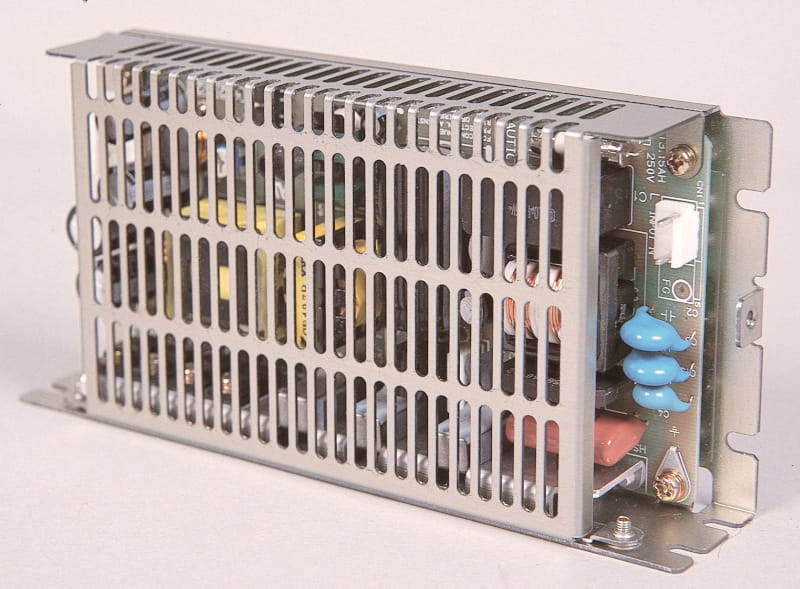 Custom power supplies to meet your needs
Custom power supply units with the features of high reliability, high efficiency, low noise, miniature and low profile are developed and manufactured to meet with customers' needs. Our original analog circuit technology cultivated over many years, and the digital control technology based upon our software technology, are fused into highly value-added power supply units. Optimal power solution is provided in a wide range of fields such as medial equipment, light-source equipment, industrial equipment, etc.
Please download and use the "Custom Power Supply Requirement Specification" for any custom design inquiries.
Ensuring high reliability and safety
The power supply is the heart of electronic equipment and its failure is fatal to the overall system function.
Rubycon is always aiming for reliability and long life through the pursuit of a highly reliable design. In addition to complying with various safety standards, we also devise circuitry and packaging to ensure a high level of safety in the event of abnormalities.
Pursuit of high efficiency and miniaturization
There is always power loss in power supplies, which causes heat generation and hinders miniaturization. Moreover, it is a critical factor that greatly impairs reliability.
Rubycon pursues a design that minimizes this loss, aiming for high efficiency and miniaturization.
A switching power supply generates noise from itself.
Rubycon not only designs to minimize noise generation, but also considers tolerance to external noise.
reduced standby power consumption
Electronic devices have a state in which the main power is on but not operating (standby), and even in this state, a certain amount of electricity is always consumed.
At Rubycon, we strive to save energy by designing our products to reduce power consumption during standby.
From small lot to mass production
Rubycon can provide the same quality from small lot to mass production at our own factory and cooperating factories.
Example of custom power supplies
«Summary»
Development and manufacturing of power supplies for medical equipment, that are featured with high efficiency, low noise, low leakage current and equipped with communication circuit and various protection circuits, adequately satisfy the requirements in high quality, high reliability and safety.
It is available to obtain certification of medical safety  specification 60601-1 upon request.
«Example»
・Power supplies for medical lamps
・Power supplies for medical equipment

«Summary»
Development and manufacturing of power supply units for various lamps (large Xenon, small Xenon, extreme high voltage Mercury lamp, etc.) are conducted as well. With our original design of ignition circuitry (igniter), high power factor, miniaturization and low profile are achieved.
Various lamp drivers (LED, laser, etc.) are commercialized by utilizing our digital power supply technology and software technology.
«Example»
・Power Supply for Lamp
(Lamp Ballast)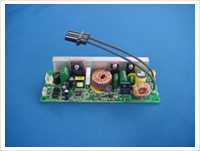 ・Solid Light Source
(Driver for LED or Laser)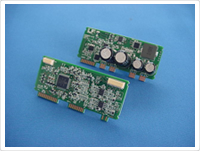 Industrial Power Supplies
«Summary»
Development and manufacturing of High Quality and high reliability product are conducted to meet with customers' various needs in performance, shape, appearance, etc. Structure (case) is available with metal or resin material, and a wide range of solution is provided in order to meet with customers' needs from design to mass production.
«Example»
・High voltage, variable voltage power supply units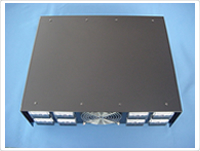 ・High power, constant power, power supplies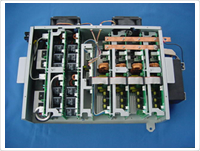 ・Digital control power supplies
・Charger for battery & EDLC
・Inverter power supplies
・Power supply for sequencer
・Power supply with function of detecting the remaining life:
It is the power supply unit that emits an alarm by detecting the life of the electrolytic capacitors used inside.
FAQ
Please let us know the hints and air flow conditions in case when the power supply is used at high temperatures.
If a fan is used, it is possible to obtain the rated output even at the ambient temperature of 60℃. Select the mounting direction and airflow of the fan in such manner that the power supply unit may be cooled internally to the maximum extent.
Note: After the power supply unit was mounted on the device proper, never fail to measure the inside temperature of power supply unit and frame temperature and check to see that such temperatures may be lower than 90℃ at the maximum operating temperature of the device proper.
Example) In case of RSW 100: T1, L2 and frame temperatures should be lower than 90℃.
Please let us know the overcurrent characteristics.
Please confirm the output characteristics given in the file attached below.
(Example: RSW 100-24 output characteristics)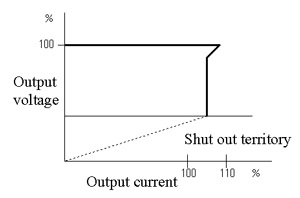 Please let us know the way how to adjust the output voltage.
It is possible to adjust the output voltage by means of output voltage adjuster(V. ADJ).
Upon adjustment, don't touch the inside and use an insulating screw-driver.
Turn the adjuster anticlockwise, and the output voltage will drop. To increase the output voltage, turn the adjuster clockwise.
Note: The output voltage should be used within the range specified on the catalogue.