【新产品发布】 铝电解电容器(贴片型) 125℃长寿,低ESR TAV系列 升级
1.Introduction
Rubycon is now adding φ8mm and φ10mm case size products to the 125℃ miniaturized, low ESR surface mount type TAV series (currently, only case size φ6.3mm is released).
The φ8mm and φ10mm case sizes of the TAV series released this time have achieved a top-class long life for aluminum electrolytic capacitors of 4,000 hours at 125℃, as well as high capacity and miniaturization at the same time.
The TAV series to be added is characterized by a long life in high temperature environments and a large capacity. This product is ideal for automotive electrical equipment (installed in ECUs in engine compartments) and communication equipment (maintenance-free support for 5G base stations), etc., where high reliability is required.
2.Features
The TAV series products with case sizes of φ8mm and φ10mm use a high-performance electrolytic solution, sealing rubber with excellent airtightness, and a manufacturing method that suppresses manufacturing variations using in-house developed equipment.
As a result, surface-mount type aluminum electrolytic capacitors are guaranteed to last for 4,000 hours at 125℃, which is one of the longest lifespans. (Conventional TGV series φ10 or less is guaranteed for 3,000 hours at 125℃)

Furthermore, the TAV series uses high-capacity foil. As a result, 1.5 to 2.2 times higher capacity than conventional products has been achieved at the same time. With this higher capacity, the conventional TGV series had a 220μF product with a diameter of 10mm, but the TAV series has a diameter of 8mm, making it possible to reduce the size by one size.
Specification
Category Temperature
-40℃ ~ +125℃
Rated Voltage
35Vdc
Capacitance Range
47μF ~ 330μF
Size
φ6.3×8L ~ φ10×10.5L
Endurance
φ6.3:125℃ 2,000 hours
φ8~10:125℃ 4,000 hours
Standard Size
Vdc
Cap
(μF)
Size (φD×L)
(mm)
Ripple (125℃)
(mA r.m.s./100kHz)
ESR (20℃)
(Ω/100kHz)
35
47
6.3×8
240
0.30
100
6.3×8
240
0.30
220
8×10.5
500
0.15
330
10×10.5
800
0.12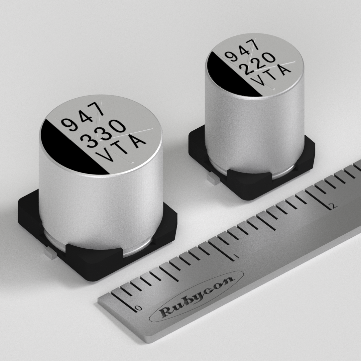 Sample:φ6.3/Available Now φ8,φ10/Sep. 2022
Mass Production:φ6.3/Available Now φ8,φ10/Mar. 2023