【New Product Release】 Aluminum Electrolytic Capacitors - LXW series
1.Introduction
In order to reduce the size and cost of the equipment, it is constantly required to be miniaturized by increasing its capacity. Meeting these market requirement, we had developed miniaturized products for input smoothing such as QXW series / HXW series (105℃ 2,000 / 3,000 hours), CXW series (105℃ 5,000 hours) and TXW series / BXW series (105℃ 10,000 to 12,000 hours).

Now we have succeeded in developing ultra miniaturized LXW series with a capacity of up to 50% higher than the conventional series (BXW series), and LXW series will contribute to downsizing electrical equipment with abundant size variation.
2.Features
LLXW series uses a new aluminum foil with higher capacitance, high conductivity electrolyte and low density spacer paper, so as to realize at most 50% higher capacitance, than conventional series (BXW series, 400 to 450V) of the same size. The new series is the most compact in winding-type high voltage aluminum electrolytic capacitor category.

In addition, we expanded the rated voltage to 500V to meet the demand for high-voltage products in LED lighting and industrial equipment.

LXW series has wide size variation such as Φ10×30 to Φ18×50 and suitable for thin type power supply by horizontal mounting. Moreover, it can be used for various applications with the category temperature lower limit -40℃.
Major specifications
Category temperature range
-40℃~ +105℃
Rated voltage
400Vdc ~ 500Vdc
Capacitance
15µF ~ 220µF
Size
Φ10×30L ~ Φ18×50L
Lifetime
105℃ 10,000 ~ 12,000hours
(L≧:12,000hours)
Performance comparison(400V, 450V)
Rated
voltage
(Vdc)
Size
ΦD×L
(mm)
LXW series
BXW series
Capacitance
(µF)
Ripple
(A r.m.s.)
Capacitance
(µF)
Ripple
(Ar.m.s.)
400
10×30
39
0.41
33
0.31
450
10×30
33
0.36
22
0.27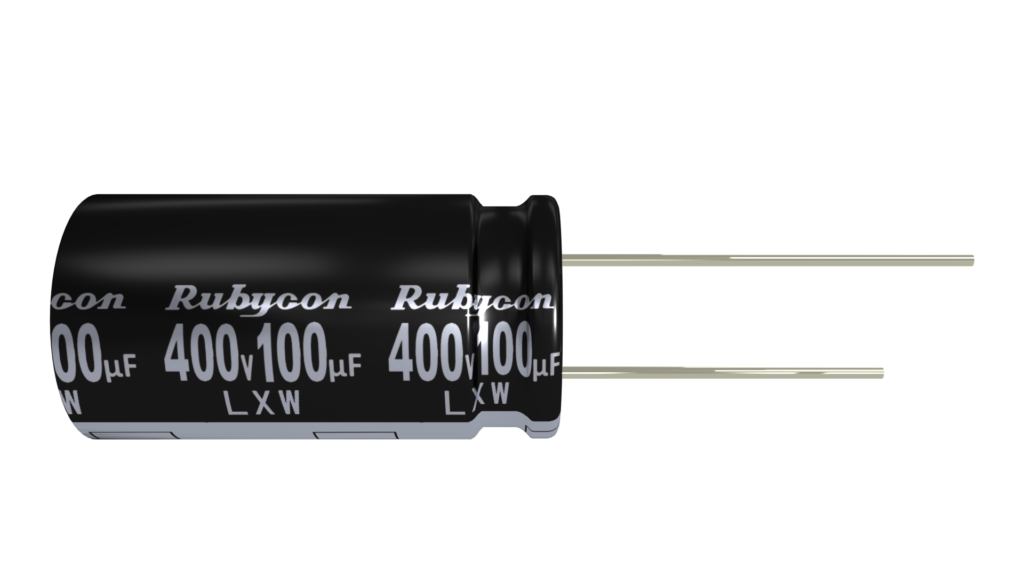 3.Schedules of sample distribution and mass production
Sample Distribution : Available
Mass Production : April, 2018