Respect for Human Rights, Human Resources Development
Our Employment Regulations clearly state that "No employee shall be treated in a discriminatory manner on the basis of Nationality, Creed, Gender, or Social Status" as Equal Treatment. Furthermore, we comply with various laws and regulations such as "Prohibition of Forced Labor", "Prohibition of Inhumane Treatment", "Prohibition of Child Labor", "Restrictions on Dangerous and Injurious Jobs", and "Restrictions on Dangerous and Injurious Jobs for Expectant or Nursing Mothers". We also focus on "Working Hour Management" in order to comply with the relevant laws and regulations and to reduce long working hours.
We have also formally participated in UN Global Compact proposed by the UN in October, 2011, and put up our original poster in each of our departments including our group companies and overseas distributors in order to comply with the 10 rules.
We are thoroughly instructing the importance to respect and cooperate with each other for pursuing work through personnel training courses described below.
Promoting Diversity and Inclusion
We are committed to promoting "Diversity" in our Company.
We also work to achieve "Inclusion", by accepting inclusion of diversity of people and by utilizing each individual's characteristics.
We aim to achieve the both by creating an environment where employees can demonstrate their abilities and work with vigour.
Cultivation of Human Resources
1

Hierarchy Courses
Group Training for New Employees (every April)

New employees receive Group Training after joining the Company in order to learn the basics to be prepared as Rubycon employees. In addition, we set time aside for group discussions so that new employees can actively communicate with each other.
After that, all new employees are given of On-the-Job Training at the manufacturing site in order to learn the basics of Monotsukuri (Manufacturing) before being assigned to each department.

Fresh Recruit Follow-up Training (at 6 to 12 months from employment)

Fresh recruit follow-up training is provided at a certain period after assignment. In the training, each trainee reviews his or her acts in the initial period to determine the extent of accomplishment of the target set at the time of employment, and sets a new target for the next step.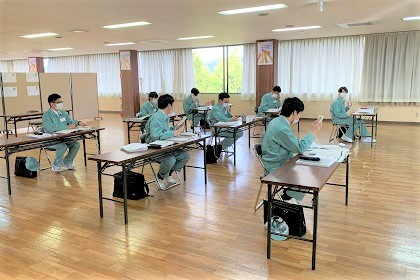 Young Employee Training (4th or 5th year after employment)

This training is provided to motivate each young employee to proactively expand his or her work scope beyond his or her duty, so as to grow into mid-level employee.

Class 1 Employee Qualification Training (for mid-level employees 7-10 years from employment)

We have an ability-based grade system, and Class 1 employee corresponds to mid-level employee. This training is aimed to improve awareness of responsibility as mid-level employee, so as to pursue work in wider viewpoint.

Newly Appointed Supervisors Training (for Newly Appointed Managers and Assistant Managers)

We educate Newly Appointed Supervisors to ensure that they have enough knowledge and abilities to lead the Staff as workplace leaders, understand the HR Systems as well as the points of performing Personnel Evaluation of the Company.

Beginning Management Training (for beginning general managers)

We provide beginning management with training of role and responsibility of management, labor management, understanding of Company counts, goal setting, and communication with staff.
2

Support for Acquiring Qualifications
Reward System for Acquiring Qualifications

In order to improve skills and motivation of the employees, we provide incentives to those who acquired national qualifications and to those who created excellent technologies related to R&D of the Company. In addition to such national qualifications as National Trade Skills Test, Chief Electrical Engineer, and Health Supervisor, the system also covers such private-sector qualifications as TOEIC and Nissho Bookkeeping Test, with many employees taking up the challenge of acquiring these qualifications. We also reward employees for filing and registering patents, utility models, and designs for the inventions made on the job. As for TOEIC, we hold an in-house test once a year.

Self-Development

We update a pamphlet of correspondence courses every year and distribute it to all employees so that they can actively utilize it as a tool for self-development.
In particular, we enhance such courses as Prep for acquisition of qualifications as well as language courses.
We also support our employees to improve their skills by encouraging participation in on-line English conversation courses when necessary.
3

Other Special Courses
Mental Healthcare Course

We believe that physical and mental health of employees is the first step to create dynamic workplace. Then we invite an instructor from Nagano Industrial Health Promotion Center or else once every few years to hold mental healthcare course.

Utilization of Outside Training Courses

In addition to internal training courses, we actively utilize outside training courses with the aim of taking advantages of inter-industry exchanges for our participants. Spending time together with people with similar titles or positions in different industries would stimulate and motivate our participants for further skill development. Managerial stuff are required to take outside training courses.
Child-care and Nursing Support
Establishment of Child-care and Nursing Support Rules

We have established Child-care and Nursing Support Rules complying with Child Care and Family Care Leave Act. Especially many employees utilize the child-care leaves to return to their former workplaces after the leave. To support child-care, if employees wish, they could work up to 2 hours less per day until March 31 of 2nd grade of elementary school. In addition to hourly leaves for nursing and care of children, employees are allowed to take leave during working hours without notice.

Establishment of Health Care Leave

Health care leave is a unique system which allows employees to convert the unused paid leave up to 10 days per year before disappeared with the retention of 2 years after the conversion. This system meets the needs of long-term care in the event of an accident, injury or illness. It can also be used in case of the sudden closure of a nursery or a school due to the spread of Covid-19.

Hourly Paid Holiday

We also have an hourly paid holiday system in which an employee can have hourly holiday up to 3 days in a year. It is useful for late attendance or early leaving due to going to a hospital for one's own or a family's sake.
Kurumin-Mark Certified (by Ministry of Health, Labor and Welfare)

We are also actively working on supporting the development of the next generation, and on August 29, 2008, we received Kurumin-Mark Certification from Nagano Labor Bureau as Accredited Employer for 2008 based on Law for Measures to Support the Development of the Next Generation.
Furthermore, based on the results of the evaluation of our efforts during the certified period of 2011 – 2015, we obtained the certification in 2015 again, which we continue to be certified to this date.

Support to Employees taking Childcare Leave

We support the employees taking Childcare Leave by means of delivering Company Newsletters and the like to them so that they can always be updated with the recent on-goings of the Company, and when they are close to returning to work, we confirm their requests regarding working arrangements they wish so that they could resolve any concerns they may have.
In addition, experienced Industrial Nurses are always available for consultation on Childcare issues while on leave.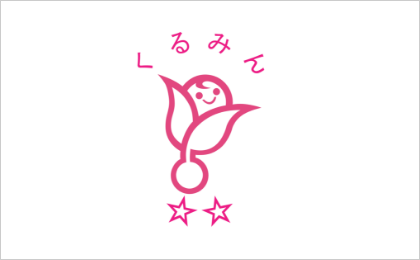 Creation of Comfortable Workplace
Occupational Health and Safety
We carry out various activities toward "Creating a healthy and comfortable workplace". As part of such efforts, we maintain "ISO45001" certification, an occupational health and safety management system.
In improvement activities, we are working to raise awareness of employees' occupational health and safety.
Activities
Details
Health and Safety Committee meetings
12 times a year
Health and Safety Committee is formed with both labor and management, and meetings are held every month to prevent occupational accidents.
Health and safety patrols
Twice a year
We have company-wide health and safety patrols in the national safety week and the national labor health week, so as to find potential problems and to improve them.
Health and safety patrols [Factory]
6 times a year
By the members of the Health and Safety Committee, we conduct checks (patrol) to see whether there are any place where employees are likely to get hurt, and whether workplaces are well organized, etc. at the factory manufacturing site where there are many dangerous parts, once every two months.
Patrol of occupational environment by Health Representative
Weekly
Health representative performs a weekly patrol of workplaces from a professional point of view. While the health and safety patrols are conducted by members of the Health and Safety Committee, this patrol identifies potential problems from a professional perspective and leads to improvement activities.
Internal health and safety audit
Once a year
Auditors are certified internally, and conduct audit to identify any issues.
Factory Environment Survey
Twice a year
Health representative and members of Health and Safety Committee measure illuminance, noise and dust in each factory to improve factory environment.
Office Environment Survey
Twice a year
Office environment survey is performed for atmospheric environment, lighting and illuminance to improve office environment.
VDT (Visual Display Terminals) Operation Survey
Once a year
VDT Operation Survey is performed with questionnaire to all employees to improve working environment.
Risk assessment and improvement activities
Young Drivers Club activities
In the national safety week and the national labor health week, members of Young Drivers Club inspect fastening of seat belt and call for safe driving.
Disaster Drill
We perform company-wide disaster drill in the national labor health week. We prepare for emergency by performing a training of report to the fire department, evacuation training, fire extinguisher training, fire hydrant training, operation of pump car by self-defense firefighting team, explanation of AED operation and understanding emergency response procedures.
Health and safety education
In addition to the education for new employees, we conduct health and safety education for the members of Health and Safety Committee, and we work on raising awareness of health and safety to all the sections of the company through the training and activities of the committee.
Address to Mental Healthcare

As described in the section of professional training, we provide mental healthcare training with external instructors.
We take appropriate actions for persons of mental disorder in cooperation of personnel section, company nurse and company doctor.

Health Consultation

Company nurse picks up 3 to 4 persons every month from long-hour workers and employees with findings in medical check, to consult company doctor on monthly visit.

Job Stress Questionnaire

Job stress testing were conducted for all employees to improve the workplace once a year.
The overall health risk for the entire company is almost at the national average level.

KYT activities

"Kiken Yochi Training" meaning the foreseeing danger situations training. KYT activities are conducted at each section of the company once a year, by having section members think about what kind of dangers exist in the workplace, decide important issues among them to work on, study how to resolve them, and set the goals by when to resolve them.
By doing it, we encourage them to have a habit looking around for searching potential dangers in the workplace.

Hiyari-Hatto(Near miss) suggestion activities

Hiyari-Hatto (near miss) is literally "a thing that makes you feel emotion of fear in an unexpected event" by a step before a serious accident.
Heinrich's is one of the empirical rules, and the content is that there are 29 minor accidents and 300 near-miss incidents (hiyari-hatto) exist behind one serious accident. According to such rule, we collect from each section reports about such incidents once a year, and take appropriate measures to eliminate risk of accidents.
Operation Efficiency Improvement
As part of our business practices to promote DX in the Company, we have been constantly improving our operation efficiency and productivity as well as securing more time margin of the employees by upgrading old systems to new ones with better operability, by using Cloud Computing to reduce the man-hours required for the system management, by using web conferencing with no restrictions on venues, and by implementing the workflow for various approval and work processes, and are planning to introduce AI Tool.
As the labor shortage is expected in the near future in Japan, we hope that these improvements may reduce workload and time of the employees and lead to relaxation of mind and body and reduction of labor man-hours.
Relationship with Labor Union
Labor-Management Council

We have labor-management council with labor union of the company, for the common purpose of "development of company and happiness of employees.
The council is held as necessary at any time to find resolution through discussion, including the regular "Spring Labor-management Negotiation" in every spring.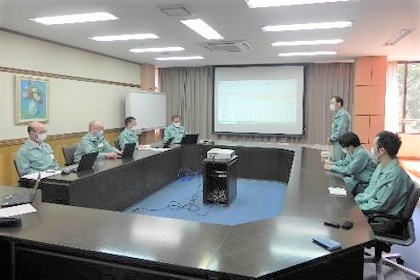 Participation in Community and Development
Promotion of Social Contribution in Local Communities
We shall actively participate in revitalizing the local communities where we operate and in resolving the local issues, and shall strive to contribute to the development of the local communities and the people there.
We shall also respect the unique culture and history of each country, region, and ethnic group (including Indigenous People and Ethnic Minorities), comply with not only the laws and regulations of the relevant location but also the international standards, and conduct responsible business operations in consideration of the local communities.
Promotion of Social Contribution Activities
Acceptance of Workplace Experience Applicants

From the viewpoint of Community Contribution and Youth Development, we do our best to accommodate the students of junior high school, high school, and university as well as working adults and the disabled wishing for participation in Workplace Experience Program. Due to the spread of Covid-19, we couldn't accept any applicants in 2020, but in 2021, we are gradually resuming acceptance.

Tracking Record of accepting the applicants in 2021

| Year and Month | Subjects | Head-count | Duration |
| --- | --- | --- | --- |
| Aug. 2021 | Students of Komagane Industrial High School (Internship) | 2 | 2 days |
| Nov. 2021 | College Students (Internship on the Web) | 2 | 1 day |
| Dec. 2021 | College Students (Internship on the Web) | 4 | 1 day |
| Jan. 2022 | Nagano Prefecture Nanshin Institute of Technology (Internship) | 2 | 2 days |
| Jan. 2022 | College Students (Internship on the Web) | 4 | 1 day |
| Feb. 2022 | College Students (Internship) | 1 | 1 day |
| Feb. 2022 | College Students (Internship on the Web) | 4 | 1 day |

Promotion of Local Firefighting Activities and Japanese Red Cross Service Activities

We promote cooperation with and participation in community activities. Local firefighting activities and local Red Cross service activities are especially important for local active disaster prevention and local welfare. We treat absence due to participation in such activities as paid holidays.
Promotion of Social Contribution in Local Communities
Tonouchi Memorial Park

In the park, within the Company campus, more than 100 cherry trees were planted, of which majority are turmeric cherry trees carried from Yuri-honjo City of Akita Pref., and as well some red peony cherry blossoms and weeping cherry trees. It has been open to the community and has become a place for relaxation.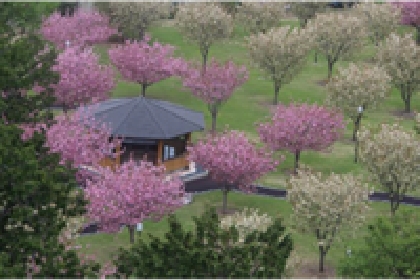 Lending the baseball stadium

We have a Rubycon stadium equiped with lighting for night games. While the company baseball team is away from hometown due to expedition or else, the stadium is open to community. It is used by various organizations, including local youngstars baseball team practices.