【新产品发布】 塑胶薄膜电容器 – 小型化和大电流型 MPY系列
1.Introduction
We have developed the "MPY series" of film capacitors with a small mounting area and significantly improved permissible current, targeting industrial power supplies that require high current load guarantee.
In addition to the long life characteristic of film capacitors, the MPY series is ideal for power supply circuits that are expected to operate for long periods of time in high power environments, such as industrial equipment, as it achieves high currents with our original longitudinal structure.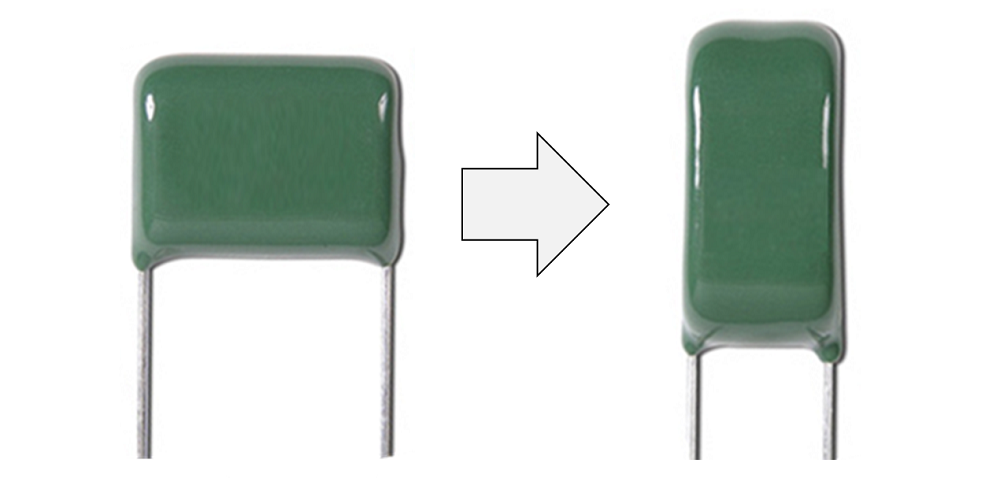 2. Features
■ Lower ESR due to the use of a narrow metallized film with an optimized deposition structure
■ ESR reduction significantly improves current withstand capability
■ Vertical structure reduces mounting area by approximately 23% compared to the conventional MPK series
Specification
Category Temperature
-40℃ ~ +105 ℃
Rated Voltage
450Vdc
Capacitance Range
0.47μF ~ 10μF
Series
[450V/2.2μF] ※1
Category
Temperature
Size (mm)
Mounting
Area (mm2)
Width
Thickness
Hight
Pitch
Width
×
Thickness
MPY
-40℃~+105℃
13.5
12.0
23.0
10.0
162
MPK
-40℃~+105℃
※2
18.0
13.5
19.0
15.0
243
MPH
-40℃~+105℃
18.5
21.0
30.5
15.0
389
※1   Comparison with 450V/2.2μF   
※2   Voltage derating is required when the temperature exceeds 85℃.
  <Comparison of mounting area>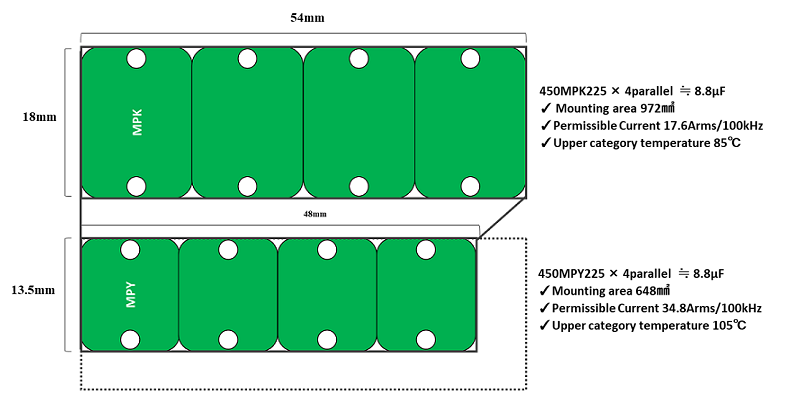 Samples: Available Now