Features
Series List / Series Chart
Design Support
Documents
FAQ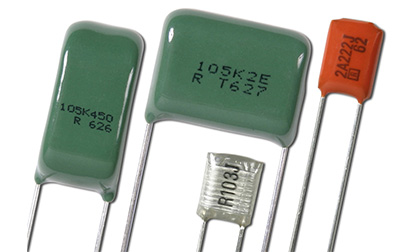 Animation of the manufacturing process
Low loss and high insulation characteristics
Film capacitors use plastic film as the dielectric material which have low loss and high insulation characteristics.
Rubycon's film capacitors are ideal for high-frequency electronic equipment achieving high temperature/humidity resistance from our unique technology. They are widely used in inverter, switching power supply circuits of audio-visual (AV) equipment, information, communication, RF, lighting as well as automotive equipment in harsh operating environments.
The high current series, which achieves low ESR by increasing the area of internally connected electrodes, achieves an increase in allowable current of about 30% in the same volume.
We have newly released the MPT series, which is compatible with 125℃, as a high heat-resistant product mainly for automotive applications.
The MPT series is designed to reduce the buzzing noise generated by film capacitors, which has become an issue as power output increases.
We have a lineup of custom-made film capacitors for power applications that require high capacitance and high current, such as industrial equipment and automotive applications.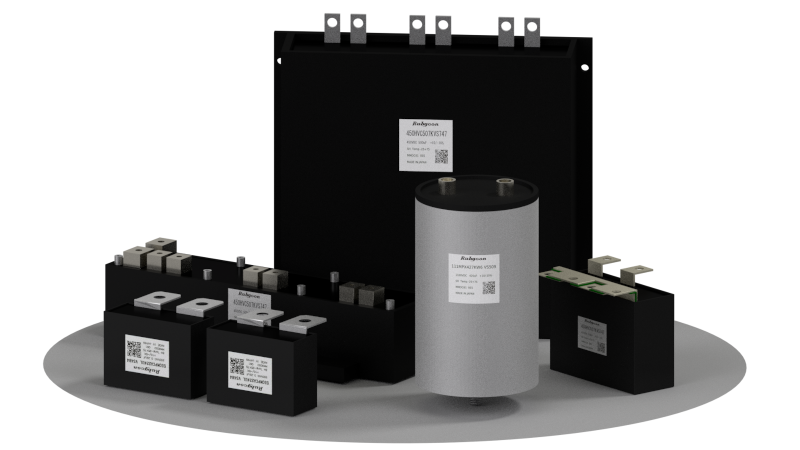 Series List
Film Capacitors
Type
Series
Details
Search
Features
General purpose
Miniaturized
High Ripple
heat-resistant
High Voltage
AC Rated voltage
CR-Network
Rated voltage

(V)

Capacitance

(μF)

Category Temperature Range
Series
Metallized Polypropylene Film Capacitors
MPB

 

Standard

◯
DC250~630
0.01~4.7
-40~+105℃
MPB
MPK

 

Miniaturized

◯
DC450~800
0.1~4.7
-40~+105℃ (+85℃)
MPK
MPN

 

Ultra Miniaturized

◯
DC450~630
0.1~4.7
-40~+85℃
MPN
MPH

 

High Current

◯
DC100~800
0.047~22
-40~+105℃
MPH
MPE

 

High Voltage

◯
DC800~1,600
AC250~700
0.001~0.56
-40~+105℃
MPE
MPKA

 

Across-the-line,
Miniaturized

◯
◯
AC125~275
0.01~1
-40~+85℃
MPKA
PCK

 

High Ripple Current,
Low Buzz

◯
◯
DC450~2,000
0.01~33
-40~+105℃ (+85℃)
PCK
MPF

 

Ultra High Voltage

◯
DC10,000~20,000
0.027~0.68
-40~+85℃
MPF

new

MPT

 

High heat resistance

◯
◯
DC630
1~6.8
-40~+125℃

new

MPT

new

MPY

 

Miniaturized,
High Ripple Current

◯
◯
DC450
0.47~10
-40~+105℃

new

MPY
Metallized Polyester Film Capacitors
MMB

 

Standard

◯
DC100~630
0.01~10
-40~+105℃ (+85℃)
MMB
MMG

 

Miniaturized

◯
DC250~630
0.056~10
-40~+105℃ (+85℃)
MMG
MMBA

 

Across-the-line

◯
◯
AC125~250
0.01~1
-40~+85℃
MMBA
CR-Surge absober
MCRA-DP

 

CR-Surge absober

◯
◯
◯
AC125~250
C: 0.033~0.1
R: 47~120Ω
-25~+85℃
MCRA-DP
Power Film Capacitors
MPC

 

High Ripple Current

◯
DC700~1,600
0.1~2.2
-40~+85℃
MPC
MPCA

 

For AC line

◯
◯
AC220~500
1~100
-25~+70℃
MPCA
HVC

 

Low ESL

◯
◯
DC250~800
50~800
-40~+105℃
HVC
MPX

 

Stud Mounting

◯
DC1,100~1,300
200~1,600
-20~+70℃
MPX
Polyester Film Capacitors
F2D

 

Standard

◯
DC50~200
0.00047~0.47
-40~+105℃
F2D
Polypropylene Film Capacitors
P2S

 

Low D.F

◯
DC100~250
0.00022~0.1
-25~+85℃ (+70℃)
P2S
Polyphenylene Sulfide Film Capacitors
H2D

 

High heat resistance

◯
DC50~100
0.00047~0.47
-55~+125℃
H2D
Environmental Information
FAQ
Please let me know the service life of film capacitor.
The film capacitor will never wear out or fail if it is used within the rated voltage range having been normally set up.
However, this does not apply to the cases when the voltage exceeding the rated voltage is applied on it and when it is used in the high temperature/high humidity environment. In such cases, it is necessary to examine the details as to the propriety of its use and service life under respective conditions.
How much current can flow through the film capacitor?
Please refer to the allowable current data for frequency.
However, this data refers to the sine wave current. The waveform in the equipment in actual use frequently contains a considerably many high harmonic components. Even in slightly excess of the allowable values given in said data, self-heating of capacitor may fall below the allowable values in many cases. Finally, it is recommended to check and confirm the self-heating at the actual equipment.
Why the is derating of high frequency voltage necessary?
The high frequency voltage is to be limited by the allowable current value for high frequency as mentioned above. However, this voltage refers strictly to the AC components. In case when DC voltage is overlapped on it, the peak voltage should never exceed the DC rated voltage.
Moreover, in case of the waveforms different from the sine wave, it is also necessary to check and confirm whether the following conditions are satisfied.
(1) Current conditions are satisfied (less than the allowable current).
(2) In case when the pulse rated voltage is specified, Up-p voltage is lower than the rated voltage.